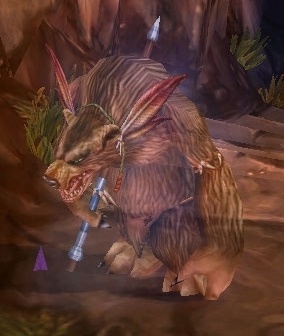 Recently I discussed the
Stave of Fur and Claw
and how fun it is to be a giant angry bear. But what could be more fun than being an angry bear and having an angry bear friend beside you?
Today's item is the
Defender of the Timbermaw
, a trinket that takes a bit of work to get. You have to be exalted with Timbermaw Hold (which used to be no easy task, believe me) and complete the
Root of All Evil
quest in Winterspring.
It takes a bit of farming to get to exalted, and occasionally some superhuman patience, but you'll get there. Defender of the Timbermaw calls forth an ancestral furbolg to fight beside you in battle and to heal you occasionally. It has a ten minute cooldown for a 30 second summon, so it's not exactly like you get to be a pair of bears too often.
So if you've gotten to exalted with Timbermaw Hold, do yourself a favor and get this and the Stave of Fur and Claw. Then do something wacky as twin bears. Send me a screenshot if you want. I'll throw it up here somewhere.